After a full 31-game regular season, Mizzou went 23-8 overall, 11-7 in SEC play and secured the No. 4 seed in the conference tournament. With the team entering the postseason, PowerMizzou.com is handing out another position-by-position report card.
Here are the grades for the Tigers after finishing up SEC play.
GUARDS
Starting point guard Nick Honor remains a steady presence for Missouri and proved himself to be one of the sharpest passers in the league with a 3.5-to-1 assist-to-turnover ratio in conference play. But Honor's aggressiveness took a step back as the year wore on — head coach Dennis Gates has said he wants the Orlando, Fla. native to be more selfish. Honor averaged 10.5 points through the first dozen games of the season, but posted just 6.4 points per game in the SEC. The Clemson transfer had seven games in which he scored 10 or more points in the non-conference slate, but had just five such games against SEC opponents.
Sean East II has remained mostly consistent throughout the year. East has improved his feel for the game and his control over the tempo the team played with and also became one of the team's better options with the ball in his hands late in tight games thanks to his ability to break down defenders off the dribble. His scoring average is the same as it was after the team's non-conference schedule at 7.6 points per game. The John A. Logan Community College transfer had a three-game stretch in which he scored a combined 46 points, but hasn't posted more than six points in any of the five games he's played in since then. The Tigers will hope he bounces back as they begin playing in games with higher stakes.
Caleb Brown has played in just five games in 2023, totaling 31 minutes. His most impactful outing came on the road against Ole Miss on Jan. 24 in which he registered two assists and two steals. The coaching staff has taken its time with his development and will likely continue to do so in the postseason.
As a group, the guards have continued to be solid but not quite as effective as they were earlier in the season.
Non-Conference Grade: B+
Regular Season Grade: B
WINGS
D'Moi Hodge is still one of the peskiest defenders in the country. According to KenPom, the British Virgin Islander comes away with a steal on 5.4% of possessions, which ranks fourth in the country. In conference games, that number is up to 5.5% of possessions, the highest mark in the league. It's the reason that Hodge likely has a case to win SEC Defensive Player of the Year. But while Hodge is still the team's most prolific shooter, his accuracy has tailed off a bit, mostly due to a four-game stretch in which he made a combined four of his 25 shots from beyond the arc. He was shooting 42.4% on 3s through non-conference but is now down to a still-good-but-not-elite 36.7%.
DeAndre Holston still has a penchant for hitting tough shots and drained another buzzer-beating game-winner against Tennessee on Feb. 11. He's been more consistent in the SEC, embracing his role as a bucket-getter whether coming off the bench or in the starting lineup. Gholston is averaging 10.6 points per game and has hit an above-average 36.2% of his 3-pointers against conference opponents. He's had a few off nights but for the most part has been a major boost to the Tigers' offense.
Tre Gomillion missed a third of the SEC schedule and barely played in another two games with a groin injury. He's been impactful when healthy, though, as evidenced by an eight-point, 11-rebound performance against Mississippi State on Feb. 21. Gates is still getting him back into a rhythm in the rotation — Gomillion was called for four fouls in 10 minutes against Ole Miss on Saturday — but he'll be an important piece of the Tigers' depth heading into the postseason.
Isaiah Mosley also returned to the court to play in five games, starting in two, before being moved out of the rotation again. He was the team's second-leading scorer while he was playing, putting up 12.8 points per game. It's unclear if Mosley will play again this season, but even if he does, it may be too late to reincorporate him into a significant role in the rotation.
The wings' progression has been a bit up-and-down, impacted by the availability of two members of their position group. But the unit remains as one of the stronger parts of the roster.
Non-Conference Grade: A-
Regular Season Grade: B+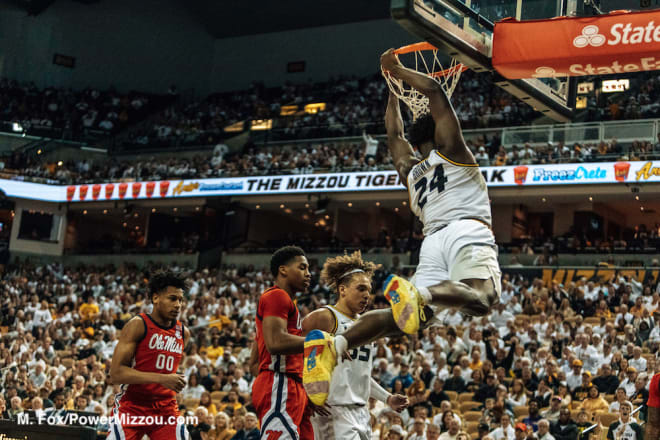 FORWARDS
Missouri's posts took a big leap throughout conference play, powered by Kobe Brown. The senior has a good chance to make the All-SEC first team, averaging 16.7 points, 6.2 rebounds and 2.3 assists per game while shooting 45.5% from beyond the arc in league play. Brown's had just three games against conference opponents in which he's been held to single-digit points, surpassing Hodge as the team's leading scorer. The team likely wouldn't have been as successful as it has been without Brown becoming one of the best players in the SEC.
The Tigers were also helped by the emergence of Mohammed Diarra as a major contributor. Gates began to insert the Garden City Community College transfer as a regular part of the rotation in mid-January and gradually ramped up his minutes. Diarra earned his first start in the team's game against Mississippi State on Feb. 21 and has been a part of the first five in each of the past four games — all wins. At 6-foot-10, Diarra's presence allows Brown to play at a more natural position and take advantage of smaller defenders on offense. The Montreuil, France native has also been impactful on the glass and on defense, averaging 4.6 rebounds per game while totaling 10 steals and 11 blocks.
Noah Carter didn't adjust all that well to SEC competition early on. Through the first 13 games of league play, he'd reached double figures just three times. But he's started to hit a groove coming off the bench over the last four games, scoring a combined 52 points. He finished the conference slate averaging 8.9 points and 3.6 boards and appears to be returning to form just in time for the most crucial portion of the season.
Aidan Shaw has continued to see his minutes fluctuate, but has had a few bright spots, including the team's win against Ole Miss on Saturday in which he racked up six points and five rebounds. Walk-on junior Mabor Majak also proved himself to be a serviceable rim protector and was needed on multiple occasions afterwards Ronnie DeGray III suffered a knee injury that's kept him out since Jan. 21.
Gates hasn't said whether or not DeGray will play again this season, but Mizzou appears deep enough at forward to withstand the loss.
Non-Conference Grade: B-
Regular Season Grade: A
Stay up to date on all the Mizzou news with your premium subscription
Talk about this story and more The Tigers' Lair
Make sure you're caught up on all the Tiger news and headlines
Subscribe to our YouTube Channel for video and live streaming coverage
Everyone on here already has insurance (or they should). Everyone on here also cheers for the Tigers (or they should). In college sports the hot button issue is NIL. A school can no longer compete the way they did just a few short years ago without a robust NIL collective. In our economy, the hot button issue is inflation. Here's your opportunity to see about saving money on something that the state requires you to have on your car and your lender requires you to have on your house. Oh and by the way, just a quote from James' office will get a donation on your behalf to PowerMizzou's fund with Every True Tiger Foundation, Mizzou's preferred NIL collective. Blink if you like saving money. Blink twice if you want to do everything you can to position your favorite college program to be as competitive in the SEC as possible. Give James' office a call at 314-961-4800 or get a quote online at carltoninsurance.net.
"If your insurance costs a leg and an arm, call James Carlton State Farm."