The Blue Devils grab a season sweep of the Tar Heels and head into the postseason riding a six-game winning streak
CHAPEL HILL – Think of Duke's first win over North Carolina as revelation and think of this one as vindication.
All rolled into a bundle of redemption for last year.
In a near-identical score as Duke's win in Durham a month ago, the Blue Devils completed a season sweep of UNC with a 62-57 win at the Smith Center on Saturday night.
In identical fashion to the first matchup between these teams, Duke scored the final six points. It sucked the air out of this building that was treated to the latest chapter of this rivalry, which delivered again in the form of eight lead changes in the final nine minutes.
"This was one of the most hectic venues I've been in, there was a lot of animosity," freshman forward Mark Mitchell said. "Those guys fought hard, it was good, man. You dream for times like this, to come somewhere and quiet a crowd."
The animosity was on display early; about 45 minutes before tip-off, after one of the times Duke warmed up on the court, the Blue Devils ran back into their locker room through a hallway that was packed with fans.
"That was different. Very different," said the freshman Kyle Filipowski who led Duke with 22 points and 13 rebounds. "I had little kids as I was running by saying that I suck. It just shows how crazy this rivalry is.
"This is the Duke-Carolina rivalry, it is what it is for a reason."
It was the way Duke (23-8, 14-6 ACC) finished this latest chapter of the rivalry that both spent most satisfying and showed why this team has raised the ceiling of what it can do over the next month.
The vindication of this is how good a defensive team Duke is, holding UNC (19-12, 11-9) to eight points over the last eight minutes, and without a field goal in the last four minutes.
The Blue Devils are an old team in the form of a young one.
"They understand it now. It's a matter of getting there and growing up," coach Jon Scheyer said. "I don't look at these guys as freshmen anymore, they're just — I'm proud of them, man. I'm proud of them for what they've been through.
"Any noise, anything else, they just hung tough."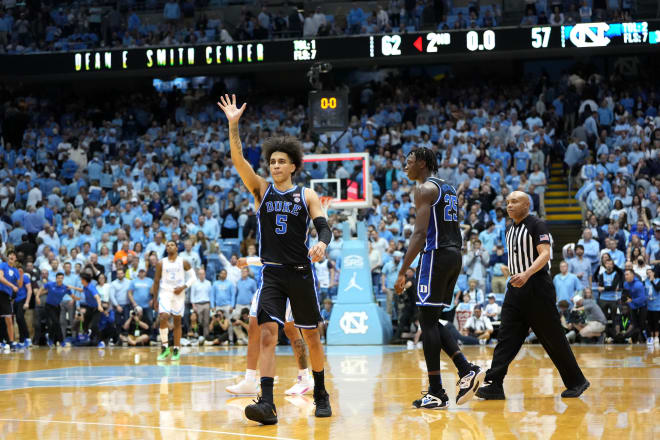 That nebulous "anything else" could include back-to-back 3s by RJ Davis and Pete Nance at the 9:02 and 8:30 marks of the second half, giving UNC a 49-45 lead — its first lead since the first seven minutes of the game.
Mitchell scored on a drive to get two of those points back, followed by a timeout from Scheyer.
The message at that time was simple.
"Stay the course. Stay the course," Scheyer said. "And I told them, 'Where else would you rather be? It's a one-possession game, we're in a great position to win this.' But it was their ball and we had to start with a stop."
The Blue Devils enter the ACC tournament with more momentum than any other team in the league, having won six straight games. They haven't lost since the botched ending to regulation ultimately led to an overtime loss at Virginia.
It's a late-season surge that puts Duke into the double-bye in Greensboro, with the No. 4 seeds. The Blue Devils will play Florida State, Georgia Tech or Pittsburgh — a trio they went 3-0 against this season, although all of those games came in the first half of the ACC schedule.
"It's been a dream of mine since I was a kid," Filipowski said. "Watching the postseason, winning a conference championship and a national championship."
Duke was clinging to a two-point lead at halftime in what was a slow start for both teams. The Blue Devils didn't score until their seventh possession and had four field goals — two of them 3s by Jeremy Roach — in the first 10 minutes.
Derek Lively II, such a dominant force in the first matchup, was on the court for only eight of the first 32 minutes of the game because of foul trouble. He picked up his second of the first half with 7:44 left and didn't play until the second half, when he picked up fouls three and four 54 seconds apart.
He stayed on the court for the final eight minutes, though, as Scheyer subbed him back in during the "stay the course" timeout when Duke trailed by two.
"I was really surprised that the refs were going to call the game so ticky-tack," Lively said. "But you know, you can't change the refs, you can't change how they call the game, so you've got to adapt to it. My coaches trusted me … to put me in at the right time and secure the dub."
Lively scored on a lob from Tyrese Proctor shortly after checking in, his only points of the night. Filipowski scored nine of Duke's last 13 points, with Proctor hitting a mid-range jumper and Roach scoring on an up-and-under move in the final minute to push Duke's lead to three.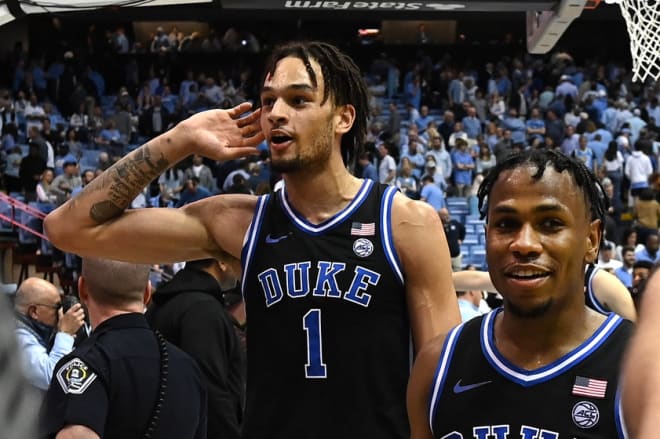 Filipowski missed the front end of a one-and-one free throw when the margin was three, but the Blue Devils got a final stop and Lively passed ahead to Filipowski for the punctuation mark of a two-handed flush.
"He's always going at the rim, going at defenders," Lively said of Filipowski. "He's a great player, he's a great person. He's just a joy to play with.
"He's the offensive punch, I'm the defensive punch. We just try to hit people with the one-two."
UNC had a couple of three-minute stretches without a field goal in the first half, allowing Duke to edge its way into as much as a six-point lead. The Tar Heels scored six of the last eight points in the first half to gain back some momentum.
TIP-INS: Leaky Black took the most shots (16) for UNC, while Armando Bacot had 17 points on 4-for-8 shooting. Other than Nance's 3-pointer the back-and-forth closing stretch, Caleb Love, Davis, Black and Bacot were the only Tar Heels to score. … Mitchell had 10 points, giving him double-figure points for the fourth straight game. Duke is 13-1 this season when he scores at least 10. … Both teams had 39 rebounds, 10 of them offensive rebounds. But Duke held a 14-7 advantage in second-chance points. … The Blue Devils also had a 30-16 advantage in points in the paint. … UNC had made 24 of 51 3-pointers in its last two games, but was 5-for-23 on Saturday night. … Duke had a season-low four assists on 22 field goals, its second straight game with single-digit assists. The Blue Devils had 76 assists on 114 field goals (66.7%) in the first four games of their winning streak, and have had 11 assists on 45 field goals (24.4%) in the last two games.